Instructors
Instructors at Toscana Studio and Gallery
---
Linda Ahearn:
Details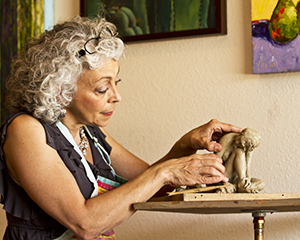 Linda began her art career at the age of 12 with oil painting classes. She continued to focus in oil until her junior year of college, when she attended art school overseas in Florence, Italy.
At Gonzaga in Florence, Linda learned a mass of diverse sculpture methods, and was positively inspired by the master sculptors' work in Europe. She earned her Bachelor of Fine Arts degree, graduating Magna Cum Laude from Holy Names College in Oakland, CA in 1984.
Since then, Linda has been involved in myriad continuing education courses in the visual arts, constantly refining her techniques, learning new mediums, and expanding her knowledge. She continues to paint prolifically, mostly from live models, and this helps to feed her inspirations for her sculptures.She specializes in figurative clay and bronze sculpture.
Linda is very active in the community art scene and has been a representative on many art panels for selection of exceptional artists for awards. She received a Directors Award for Tucson Pima Art Council Open Studio Tour in 2008, and continues to be on several art jury panels throughout Tucson. Linda is a member of several artists' organizations; the National Sculpture Society; the Southern Arizona Arts Guild; and the Southern Arizona Arts and Cultural Alliance.
Roger Alderman:
Details
Roger Alderman is a Plein Air Impressionist and Colorist. His work is defined by the expressive power of paint through the use of brilliant color and bold paint application with brushes and palette knives.
Roger's painting is grounded by years of observing and painting the landscape on location en plein air. Working in oil paint, Roger creates an impressionistic and contemporary vision of the landscape of the American Southwest. "My work is about expressing the energy and spirit I sense in the landscape. Much of my work is painted and completed on location en plein air. In the studio, I push themes such as trees, water, rocks and canyons into a series of large contemporary paintings.
Abstracting the shape and color provides a glance at what could be present and stirs the possibilities inherent in all of us. A Native American friend once said to me, 'that to Native Peoples, everything has a spirit, the air we breathe, trees, animals-even rocks,' when she commented on seeing the shape of a bear in the rocks I had painted. If I have done my job as an artist with light, color and form, and you can see the bear in the rocks, or you are moved by the spirit and beauty of the landscape, then we are speaking the same language."
Roger studied Industrial Design and Fine Art at The Ohio State University, Columbus, Ohio. He has studied studio art at the Pima Community College, the Tucson Museum of Art School, and The Drawing Studio, in Tucson, Arizona.
He has developed is own unique painting style through years of painting and drawing. Known for his bold use of color and expressive palette knife work, Roger continues to excite his growing list of collectors with his signature painting style.
Roger is an Associate Member of the Oil Painters of America, Associate Member of the American Impressionist Society, Artist Member of the Plein Air Painters of New Mexico, and a member of the Friends of Western Art. He is an Signature Member and the past President 2004-2006 of the Tucson Plein Air Painters Society.
Roger's paintings have been in many national and regional shows, including the American Impressionist Societys Annual 2009 show, the Oil Painters of America Western Regional, 2006, and the Plein Air New Mexico Invitational 2005, which resulted in his work being published in the hardcover book, Plein Air New Mexico, 2006, of the Jack Richeson Fine Art Series. He has won numerous awards for his paintings including the American Artist Magazine Competition for Landscape.
Nancy Bautzmann:
Details
"Nancy Bautzmann did not start her life as a painter, but after taking a figure drawing class in college, she was hooked for life. After obtaining a degree in Fine Arts from Westminster College in New Wilmington, PA in 1974, she first went to work in the field of advertising as a graphic artist. However, she attended numerous workshops and continued to study under such noted artists as Robert Hild, Hans Axel Walleen AWS, Gloria Malcolm Arnold, Mark Milhof, and Gunter Korus.
In 1987 she stopped working in advertising, rented her own studio, and put her heart and soul into painting. She taught art lessons in the local museum in Pittsfield, MA, built her own studio, and became president of the Pittsfield Art League. In 1994, she moved to Tucson, AZ. She paints both in watercolors and oils and has added desert scenes and flowers to her portfolio. Her home and studio is within walking distance of the famous Tohono Chul Park , so she finds ample subject matter for her paintings.
Her artwork has been shown in many galleries on both coasts. She has also received numerous awards from both national and international exhibitions including: Kent Art Association, 1995 — Best in Show Southern Arizona Watercolor Guild — ASDM, and the 1998 Merchandise Award — Oil Painters of America — Washington DC. In October 2009 her paintings went on exhibit at Sanders Gallery in Tucson. She is a signature artist of Oil Painters of America and Southern Arizona Watercolor Guild. Nancy also was a signature artist with The Copley Society of Boston for several years.
Virginia Carroll:
Details
Although Virginia has been seriously involved with art since a young child working in pencil, charcoal, pastel, oil, watercolor and acrylic, she only discovered Colored Pencil in 2006. She finally felt that she had found her perfect niche in the art world and has worked only in Colored Pencil since that time!
Virginia has shown her work in many local, national and international Juried Exhibitions and has won many awards and ribbons. She has had work published in books and magazines, and has been asked to teach both group workshops and private students. You can view her work on her website.
Linda Dobkin:
Details
Linda has been teaching painting classes for many years, and is currently teaching at the Scottsdale Artist School. Linda's works have brought her numerous awards and ribbons on a number of occasions at Pima Community College as well as the Tubac Center of the Arts and the Karen Newby Gallery. Presently, her works can be seen in Tubac, and in Tucson at the Jane Hamilton Fine Art Gallery.
Harry L Greene,II MD:
Details
Harry L Greene studied and taught anatomy at University of Missouri, Harvard Medical School and University of Mass. Medical Center. Received teaching awards from the former and the University of Arizona. He has been a figurative artist painting portraits in oil since 1990. He has taught anatomy for artists at the Desert Museum Art Institute and Toscana Studio and Gallery. Combines French Academy drawing techniques with drawing from casts and from human models. Chair of Greater Oro Valley Visual Arts Committee and member of Critique Committee for Southern Arizona Arts Guild.
Melissa Johnson:
Details
Melissa Johnson has worked with
oil and cold wax medium to create abstract and realistic landscapes. Melissa is represented by the Wilde Meyer Gallery in Tucson and
Scottsdale.
Joseph Lorusso:
Details
Joseph Lorusso was born in Chicago, and received his formal training at the American Academy of Art. His paintings have been described as warm and dreamlike, places of restful escape with a sense of spirituality, and share timelessness with the works of other eras. The mood and emotion conveyed in Lorusso's paintings evokes a deep sense of beauty found in the quiet times of daily living. His people are mysterious, lonely, romantic and yet familiar, placed in settings we often see ourselves. Lorusso's paintings have gained notoriety by their ability to connect with the viewer, resonating in a way that is intimate and personal. He has been featured in American Artist magazine, Southwest Art, Art & Antiques, The Artists Magazine, Art News, American Art Collector, International Artist and Art Talk magazines.
Barbara Mulleneaux:
Details
"Barbara Mulleneaux moved from southern California to Arizona in 1994 with her husband and two daughters. Being a self-taught artist, Barbara reminds us that doesn't mean "no art education." Barbara has taken and continues to participate in classes and workshops, with some our finest contemporary painters as well as studying art history. She joined the Tucson Plein Air Painters Society in 2002 and served as president. Even after years of following trails and picking bugs off her panel, Barbara still prefers to paint outdoors- especially with her Golden Retriever, Charlie.
Barbara's works are very expressive with bold color and texture. She uses palette knives. "I like to use the palette knife. It is kind of like sculpting with paint!"
Member: OPA, AWA, AIS, TPAPS.
Judy Nakari:
Details
Judy Nakari's paintings have garnered awards both locally and nationally. She is a signature member of Southern Arizona Watercolor Guild (SAWG), Colorado Watercolor Society (CWS), and Taos National Society of Watercolor (TNSW), and holds juried membership with Oil Painters of America (OPA), as well as PAAC (Plein Air Artists of Colorado) and TPAPS (Tucson Plein Air Painters Society).
Judy is a versatile painter in two mediums, as evidenced by her oil painting being included in Southwest Art magazine's "Women in Art' (August 2013); and her watercolor in Splash 14, a national collection of "The Best of Watercolor" pub. NorthLight Books, 2013. Her work is known for its loose but accurate rendering of representational subjects, with sometimes surprising color choices.
Aureleo Rosano:
Details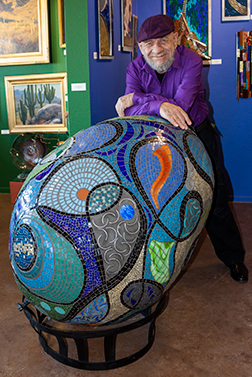 "Mosaics were my first major interest in the visual arts. When just a kid, I used almost anything available … pebbles, seeds, feathers, bits of glass, as mosaic material. Gluing these little things together on a piece of wood, I would create a picture, a design or a pattern. Later in life, I learned of that exquisite Italian glass being available in so many colors and varieties. One might think about a large glass or ceramic vessel and how fragile it is. Now consider the fragments of that jar or pot and recognize how durable those pieces are. It is that beauty and lasting quality that continually attracts me to glass mosaics."
Born May 29, 1939 in New Britain, Connecticut to Sicilian parents. Emphasis in schooling on sciences and mathematics. Self-taught in the visual arts. In 1960, left New England for the sunshine and new frontier of Tucson, Arizona where I now live. In Arizona, I worked as a dishwasher, house painter, copper miner, apartment owner-manager, and test engineering officer at Hughes Aircraft. I became a steamfitter in 1973 after completing 5-yr apprenticeship. In 1976, founded a control systems company, in competition with Johnson Control and Honeywell. Interest in mosaics and sculpture began in childhood and continues to the present.
Sarah J. Webber:
Details
"Sarah Webber graduated from the University of MN in 1987, with a fine arts degree in vocal performance and a minor in art history; that same year she relocated to Jackson Hole, WY. After meeting some of the local artists there, Sarah became interested in oil painting. She took workshops with landscape painters Scott Christensen and Matt Smith, while exploring portraiture at Central Wyoming College. In the 1990's, Sarah relocated to Scottsdale, AZ, and at Scottsdale Artist School furthered her art studies, which included workshops with Kevin MacPherson, and attending classes drawing models from life.
Sarah's influences include deceased masters: N. C. Wyeth; Frank Tenney Johnson; William Herbert Dunton; W. R. Leigh; and Bob Kuhn; and also living artists Peggi Kroll Roberts, and landscape painter Glenn Dean.
In 2001, after spending nearly 10 years working in art galleries, she began to explore the idea of painting full-time. Sarah started placing oil paintings of barnyard animals (a subject matter she loves) in galleries, and noticed that her paintings were quickly purchased.
Sarah's style is painterly, but also includes an element of realism with a focus on expressiveness, lush color and thick brushwork. She also likes to play with color, surface quality, design and simplified form.
In the past few years Sarah's work has appeared in many top exhibits: the Gilcrease Museum; the CM Russell Museum; The Desert Caballeros Museum; and the Clymer Museum. January 2011, Sarah was invited by the National Museum of Wildlife Art in Jackson, WY, to participate in the Winter Carnival Quick Draw, where her painting of a brown bear, "Puccini," went to a sealed bid and was the second place top-dollar sale.
Sarah belongs to: the American Women Artists; the Tucson Plein Air Painters; and Friends of Western art, among others. She currently resides in Tucson, AZ, and spends her summers in Jackson, WY.