Toscana Studio and Gallery
Welcome to Toscana Studio and Gallery
Toscana Studio and Gallery nestles amid the scenic grandeur of Pusch Ridge in Oro Valley, Arizona. It's just a hop-skip-and-a- jump from Tucson.
While Nature and Time collaborate to create splendor outside, our artists are engaged in crafting beauty inside. Toscana's newly-fresh fine art gallery showcases professional art from dedicated artists in multiple medias. You may find artistic gems in corners, uncommon grace on pedestals, or the unique gazing back at your eye level.
Inspired by the setting and art? Eager to create art yourself, but not sure where to begin? Toscana Studio holds adult art workshops and on-going classes for artists at any level. Toscana Studio also has classes for kids from 6 years and up. As we enter our 10th year, for the 2015 - 2016 classes, we are proud to present new adult art classes, and workshops; with professional artists as instructors.
Please leisurely roam our diverse fine art gallery pages, clear your calendar for our forthcoming events and discover your creativity! Come to Toscana Studio and Gallery, conveniently located at 9040 N. Oracle Rd., Oro Valley, AZ, just Northwest of Tucson.
Gallery Hours: Tuesday - Friday 11:00 am to 5:00 pm, Closed Saturday and Sunday and Monday.
"A Painters Life" One-Man Show
A series of paintings by Tucson Artist Chris Harvey
Reception on Saturday, October 17, 2015
5:00 pm - 9:00 p.m.
Light refreshments and live Bluegrass music! Come out for a spirited evening of art, music, food and tons of fun!
Show runs thru January 15, 2016.
For more information, please click the Read More button.
October 24 & 25 - Art Trails 2015 Open Studio Tour
11:00 am - 5:00 pm both days.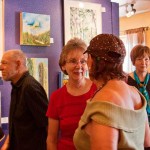 A great time to visit the refreshed gallery, view the new art at Toscana and talk with Linda Ahearn! For a tour map, please click on the See Map button. For more information, please click the Read More button.
Tucson Pima Arts Council Open Studio Tour - November 14 and 15
11:00 am - 5:00 pm both days.
The Open Studio Tour (OST) is a weekend long celebration of Pima County art, where the public is invited to tour the studios of artists from all over Pima County.
This is a perfect time to view the refreshed gallery and marvelous art at Toscana! For more information, please click the Read More button.
Adult Art Classes At Toscana

Intermediate Watercolor Class
Adult Art Class
With Nancy Bautzmann
November 5, 12, 19, and Dec. 3, 2015
10:00 am - 12:30 pm
Four weeks - $180
On-Going Adult Art Classes At Toscana
Time Travel Life Studies
Friday afternoons 1:30 pm to 4:30 pm
Kids Classes At Toscana
Classes are on-going - start on any day of the three
Kids Art Classes are held on:
Tuesdays or
Wednesdays or
Thursdays
3:30 pm - 6:00 pm - 2nd to 12th grades
Kids art classes in painting, sculpting, or mixed media with Linda Ahearn.