Linda Ahearn Public Art
Linda Ahearn's Public Art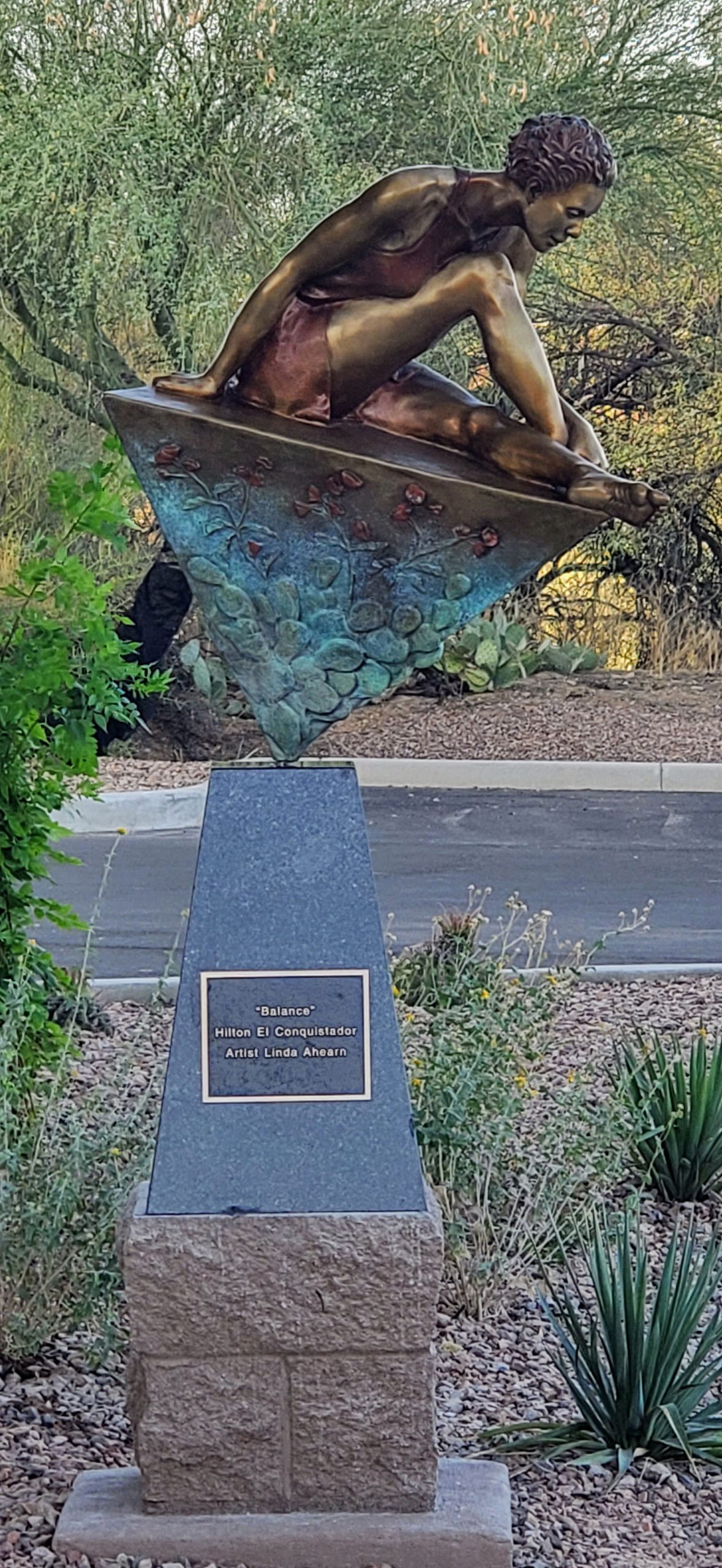 "The Hilton El Conquistador has hired me to create a public art piece in front of their new Day Spa: "Spawell." It has been in the works for several months, and was just installed October 12, 2020. So very happy and honored to be a part of this beautiful spa. "
The text on the base reads, "BALANCE" "HILTON EL CONQUISTADOR" "ARTIST LINDA AHEARN"
In January of 2020 Linda Ahearn had the opportunity to submit artwork for a competition for the Hilton El Conquistador Resort in Oro Valley. "They have built a beautiful new Day Spa and have selected my sculpture "Balance" to grace the dramatic entrance to this beautiful building on the resort property. This is part of the 1% for public art in Oro Valley for all new developments. I am beyond honored to have my piece represented by this world class resort."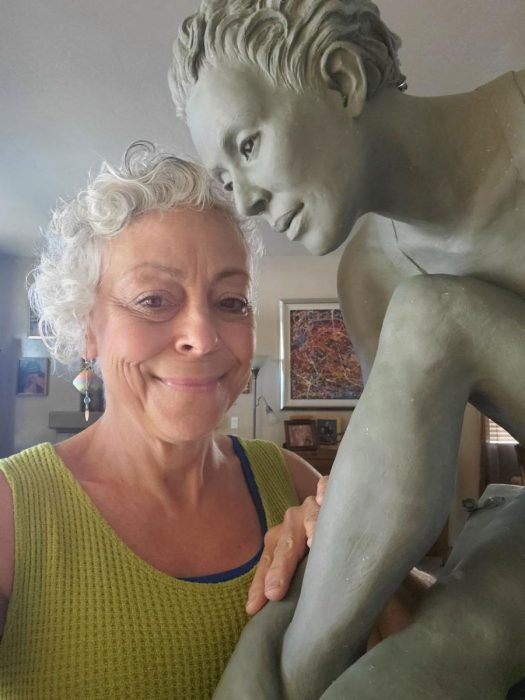 "Balance" represents a moment of calm, serenity, and balance. She will be half life size.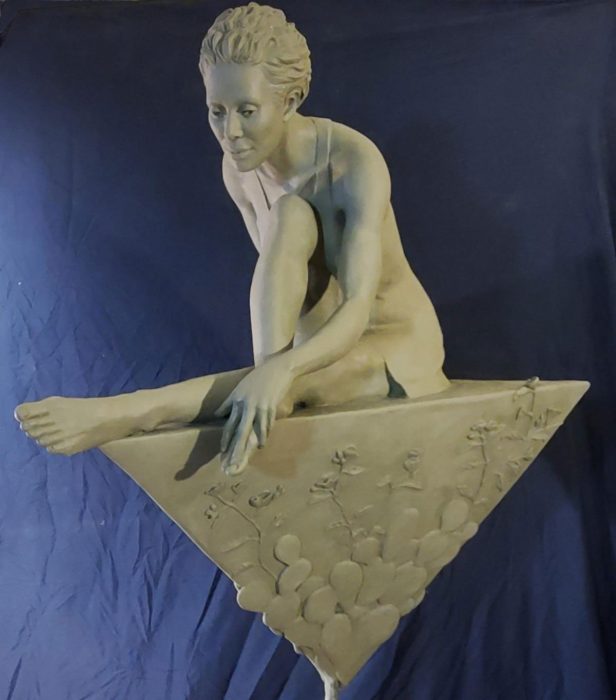 Stay tuned for news on its completion in the fall. I will keep you posted for her unveiling.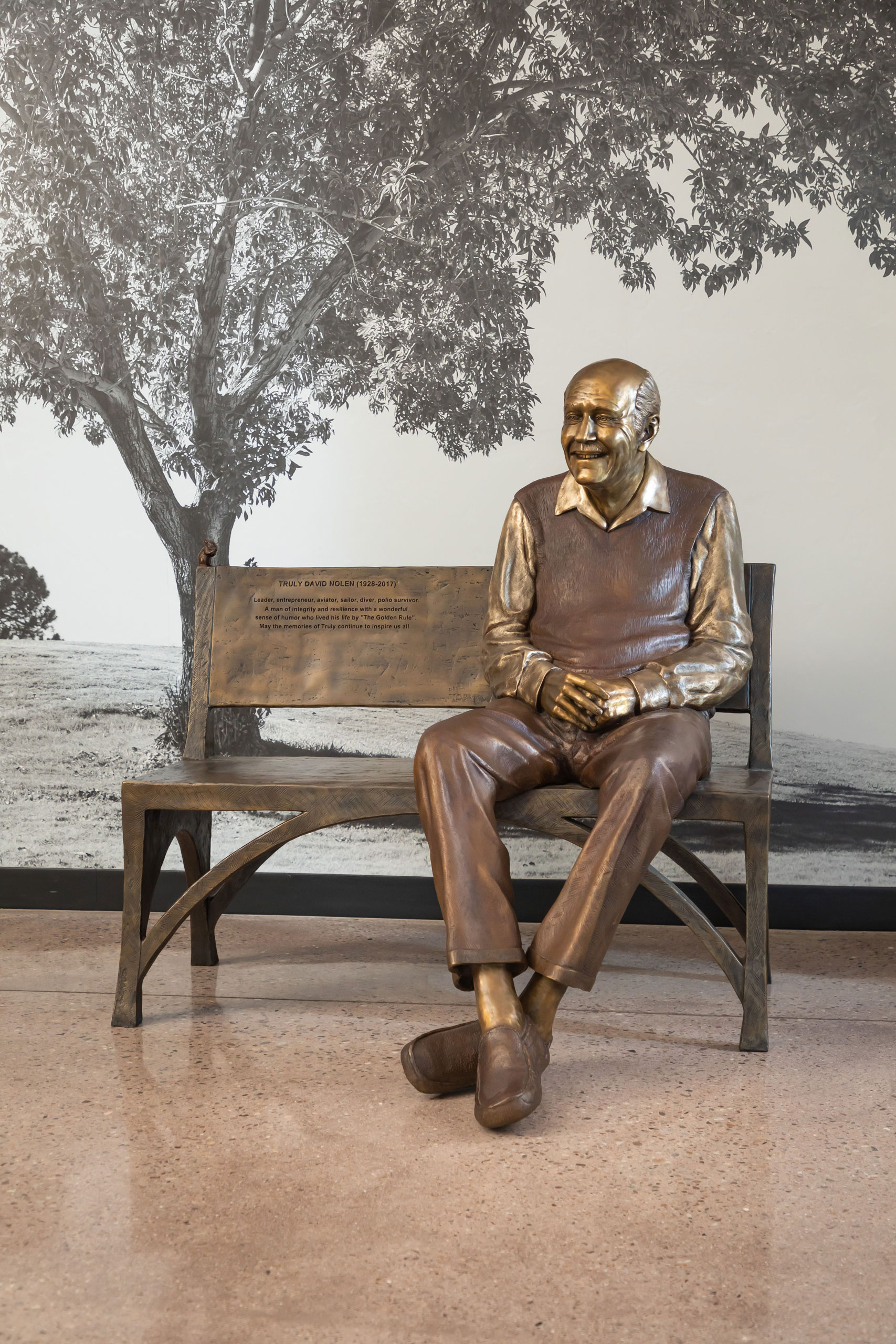 Linda Ahearn was commissioned to create a bronze statue of Truly Nolen company founder Truly David Nolen. He is depicted as sitting on a bench with a special mouse feature to symbolize his beloved "mouse car." Local Tucson artists Lynn Rae Lowe worked on the bench,  and Mark Rossi created the mouse. Nolen's wife, Vickie, commissioned the creation of the statue and donated it to the Leadership Center.  Linda Ahearn sculpted Mr. Nolen down to the feet.
The text on the bench reads:
"TRULY DAVID NOLEN (1928-2017)
"Leader, entrepreneur, aviator, sailor, diver, polio survivor.  A man of integrity and resilience with a wonderful sense of humor who lived his life by "The Golden Rule." May the memories of Truly continue to inspire us all."
Click on any of the gallery images to begin the slideshow. While you're looking, note the details that Linda put into the bronze, from his mustache to his fingertips.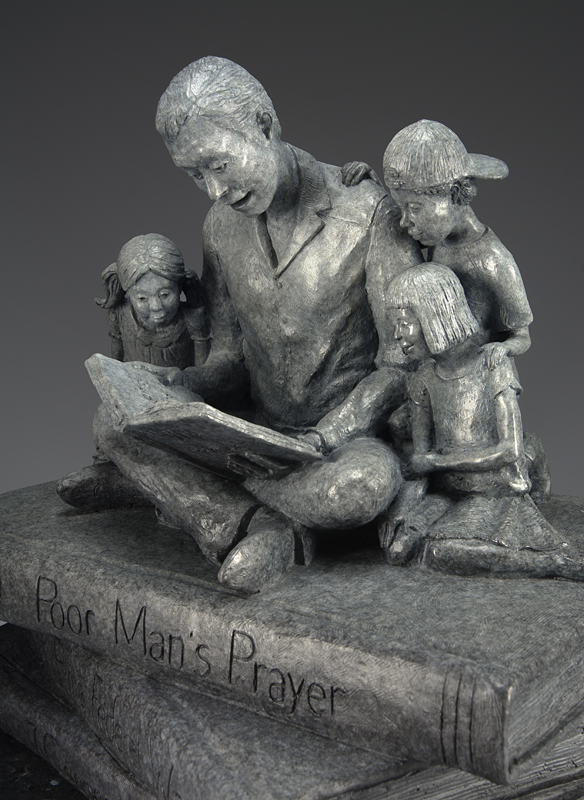 Linda Ahearn was commissioned to create a sculpture for public art at the Pima Federal Credit Union.  She created "The Promise."  Look at all the marvelous details captured in the close-ups of the figures.
The plaque reads:  "Commissioned by the CEO Eric Renaud, Sr. VP Bruce Baca, Sr. VP Cindy Campano, Executive Assistant Georgiana Beattle, VP of Retail Tricia Norman, VP of Lending Danny Smith, VP of Risk Management Laura Ward, VP of HR Angi Griffin, and VP of IT Rober Dutcher on behalf of our Pima Federal Credit Union Membership."
And the titles of the books are: "Poor Man's Prayer," "The Pima Federal Way," and "7 Cooperative Principles."